Happy 72nd Birthday to the one and only, Stephen King.
Hot off the September 10th release of his latest novel, The Institute, King has shown no signs of slowing down. In fact, he's already announced his next novel, If It Bleeds, which will center around a familiar character- Holly Gibney from the Mr. Mercedes series and 2018's The Outsider. Much like every year of the last decade in particular, there promises to be an impressive list of Must See movies and television adapted from King's work in the next twelve months. Constant Readers, rejoice!
---
It will be a day of celebration here at Mangled Matters and we'll start things off with a few Top 10 lists. What better way to celebrate the King of Horror than by familiarizing yourself with some of his best works (in this writer's humble opinion)?
It just wouldn't be right if we were to start the lists with anything other than Mr. King's best novels. Please note that these lists are outrageously subjective, created solely based on entertainment value and, in case of the adaptations, how faithful they were to the source material.
---
Top 10 Novels
The bread and butter of the King empire, there's a very good change he will break the "100 Novel" mark before all is said and done. In a career that has spanned forty-years and counting, King considers himself the "Big Mac and fries" of literature but to his Constant Readers, there's only one King of horror. As a proud member of the "I've Read 'Em All" Club, I present to you my Top 10 Stephen King novels.
---
'Salem's Lot (1975)
Jerusalem's Lot is slowly dying thanks to an erupting vampire epidemic that has planted roots in town. Chilling and vicious, there are more than just vampires at play here but holy hell do the vampires steal the show.
---
The Dead Zone (1979)
A poignant study of our country's current landscape, the story of a mad man seeking to climb the political ladder and a man who has the supernatural abilities to stop him come face to face. This novel includes the most gut-wrenching love story that King has written, in my opinion.
---
The Green Mile (1996)
John Coffey, like the drink only not spelled the same, is a man sentenced to death for the brutal murder of two children. Paul Edgecomb runs the death row building of Cold Mountain Penitentiary in 1932. Paul and his guards soon learn that not everything – or everyone – is as they seem. A tear-jerker to be sure, this novel was released in six separate chap books and is some of the best writing King has ever produced.
---
The Stand (1978)
King's magnum opus, this is a massive novel that tells the story of a world reeling from a devastating illness that wipes out over 99% of the population. There aren't many books over 800 pages long that are as enthralling from start to finish as this one. We also get the introduction of King's ultimate baddie, Randall Flagg.
---
The Shining (1977)
Author moves into isolated hotel for the winter with his family. Hotel is haunted. The ghosts are restless and Jack Torrance is vulnerable. Chilling and heartbreaking with more than a splash of autobiographical rawness, this is King at his most ferocious. While you'll be tempted to read through the night, savor this one- with so many chapters ending in blood-freezing moments, you'll be sleeping with the light on in no time.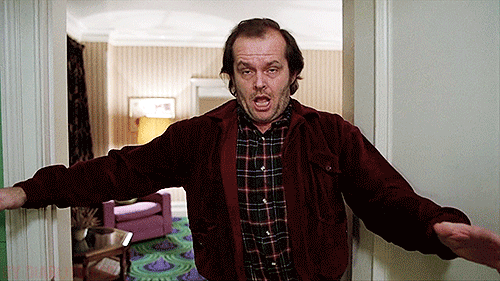 ---
Carrie (1974)
The one that started it all, rescued from the wastebasket by Mrs. King. The story of a telekenetic high schooler who has enough rage to destroy the world still holds up some forty-five years later. Quick bursts of vengeance are packed neatly into this fierce morsel of a novel that leave you rooting for the tormented as she takes aim at her bullies.
---
Cujo (1981)
The first King book I ever read. King takes the basic fear of big dogs and ramps it up to eleven, complete with rabies, a broken down car and heat stroke. Don't just assume you know the story if you've seen the movie- the novel's ending is 100 times more devastating.
---
Joyland (2013)
More mystery than horror, King packs quite the punch in this crime thriller about a summer job at a carnival and the nostalgia that comes with it. I became so immersed in this one, I was reading fifty pages at a clip without even feeling like the clock had moved. The first of King's mystery thrillers is his best, in this writer's opinion.
---
The Dark Tower IV: Wizard and Glass (1997)
I'll be the first to admit that The Dark Tower series isn't for everyone. It is my favorite epic novel series but the fourth installment in the collection is far and away the best of the bunch. The quest for the Dark Tower continues with Roland, Eddie, Susannah, Jake and Oy, including a stop at a familiar Emerald City. It's a helluva read with some captivating back story on our favorite gunslinger.
---
It (1986)
Surely this one is higher on most lists, but it makes the top 10 here nontheless. The book is huge and the scope of the story is even bigger, hitting on the good ol' days of the 50's, the not-so-good ol' days of the 80's and dimensions beyond our own. Frankly, the book hasn't held up all that well but it's still a slice of terrifying literature that is a must read for any Constant Reader.
---
Top 10 short stories
The meat and potatoes of the King empire, creating a Top 10 list of my favorite short stories is damn near impossible. For all of the accolades Mr. King rightfully earns as a novelist, it is his short story collection that truly showcases just how amazing of a horror writer he is. Without further ado, here are my Top 10 short stories of Stephen King. Beside each title is the collection you can find the story in.
---
The Mist (novella) (Skeleton Crew)
A small town in Main is shrouded by a mysterious mist brought on by an accident at a local military base. This isn't your average mist, however- this one contains ghastly beasts from another dimension. The ending notwithstanding, this short story provides even more claustrophobic terror than the film. Don't let the amazing film ending diminish a stellar ending to the story, either.
---
Children of the Corn (Night Shift)
Kids are always creepy. Cornfields are unnerving. Mix them together and what do you get? Human scarecrows and some horrific violence inflicted on an unsuspecting couple. The story that spawned an empire of terrible films is every bit as good as anything King has ever written.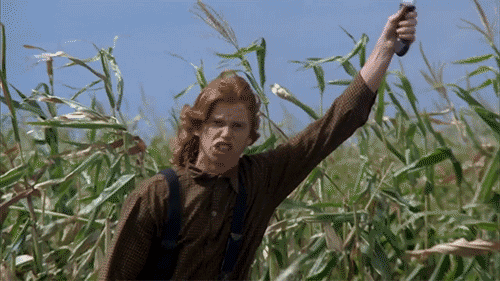 ---
The Jaunt (Skeleton Crew)
What's scarier than space? This quick read centers around a family preparing to relocate to Mars. In order to navigate the jaunt successfully, passengers must be administered sleeping gas. Naturally, things don't go as planned on the trip. One of the most unsettling endings to any short story ever will be seared into your brain for some time after reading.
---
Gray Matter (Night Shift)
When a frightened teenage boy stumbles into the local bar during a snow storm, stating his father has… changed … you know you're in for a treat. You just don't know how deliciously vile a treat you are getting until the bar folk, friends of the father, head out into the blizzard to check on their friend.
---
The Boogeyman (Night Shift)
A husband and father suffers indescribable loss at the hands of… The Boogeyman. The story is told from the point-of-view of Lester Billings, the tortured husband and father who isn't necessarily easy to like. Until you start to hear his story. Wait til the end!
---
Survivor Type (Skeleton Crew)
A disgraced surgeon who also has a hell of a heroin addiction finds himself alone on a deserted island after the cruise ship he's on sinks. With more drugs than food, Richard Pine loses himself to the isolation on the island and his drug-fueled insanity. When food runs out, Richard has to make some rather vulgar decisions. No problem, though- he's the survivor type.
---
The Night Flier (Nightmares & Dreamscapes)
A sleazy tabloid reporter named Richard Dees is hot on the case of a serial killer who is spilling blood across small airports and traveling via a Cessna plane. When Dees gets too close for comfort to the Night Flier at a Wilmington International Airport, the killer reveals himself to be a vicious vampire who destroys Richard's evidence and warns him to stay clear.
---
Riding The Bullet (Everything's Eventual)
A college student named Alan goes for the ride of his life when he hitches a ride with George Staub, a mysterious figure who demands Alan answer one simple question- him or his mother. The strange, twisted tale is one of my personal favorites and just perfect for a Halloween read.
---
Secret Window, Secret Garden (novella) (Four Past Midnight)
An author struggling to come up with his next novel, Mort Rainey is confronted by a man who claims Mort stole his idea for one of Mort's most popular novels. There is such a psychological twist on this one, I won't go into many more details but this one will have you slack-jawed by the time you've read the final line.
---
The Ten O'Clock People (Nightmares & Dreamscapes)
Quitting smoking is probably one of the most psychologically demanding things a person can do. A smoker himself, King brings the goods here as he weaves a story about a small group of people who realize their world is populated by chilling "batmen", inhuman monstrosities disguised as people of power. The only way to see these beings for what they truly are? Nicotine withdrawal.
---
Top 10 Film Adaptations
Adapting any novel is tricky business. When you are working off of Stephen King original source material, it can be even more difficult, what with the cosmic entities, aliens, and several hundred pages of literature to go off of. Beyond even that, the thing that makes King's work so uneven when it comes to the countless adaptations moviegoers have seen over the years is it's even more about the heart and character development behind the scary story and many filmmakers just don't get it.
King himself has made it very clear he is not a fan of Stanley Kubrick's adaptation of The Shining, even though it is considered one of the best horror movies ever. It's an incredibly terrifying film, it's just not a faithful adaptation.
Fortunately, these days we have the likes of Mick Garris, Mike Flanagan and Frank Darabont helming a number of King projects. There's no coincidence that these are some of the best films based on King's bibliography. Because those three gentlemen are fans first and foremost and it shows.
Here are my Top 10 Film Adaptations of Mr. King's work.
Special shout out to Hulu's 11/22/63 and Audience's Mr. Mercedes, two series that absolutely killed it (and continue to do so, in Mr. Mercedes' case) as television adaptations.
---
The Green Mile (1999)
There aren't many films that absolutely command my attention when I am flipping through channels and fall upon them, but this is definitely one of them. This film as it all, and it's no surprise that it was directed by Mr. Darabont, whom I mentioned above. The heartbreaking story of a man on death row with an incredible power gets me every time. The performances by Tom Hanks and Michael Clarke Duncan are truly incredible. The entire cast absolutely nails it, from Michael Jeter to David Morse. Keep the hankies nearby.
---
The Shawshank Redemption (1994)
Another incredible, award-winning film directed by Darabont not featuring any of King's usual beasts and ghouls, this is the story of a man sentenced to two life terms in prison for the murder of his wife and her lover. But there's so much more here, and it's all brought to life by the fantastic tandem of Tim Robbins and Morgan Freeman. If you happen to have any hankies left, you're gonna need 'em for this one.
---
The Mist (2007)
Darabont owns the top three spots on this list for good reason. He brings King's tales to life with the heart, humor and frenzied chaos that a Constant Reader demands. This creature feature is almost perfectly faithful to the short story- complete with freakish monsters and vicious kills. Except for the ending. Oh, what an ending it is..
---
It: Chapter 1 (2017)
Andy Muschietti's It: Chapter 2 is currently crushing the box office but it's the 20017 first chapter that is deserving of inclusion on this list. Andy gets it. There's more to adapting King work than just making sure there's a jump scare around every corner. This film deals exclusively with the children version of The Losers Club and does almost everything right in this adaptation. It keeps the spotlight on the children while also giving us one hellishly scary clown – and it avoids the kid orgy from the book. Double bonus!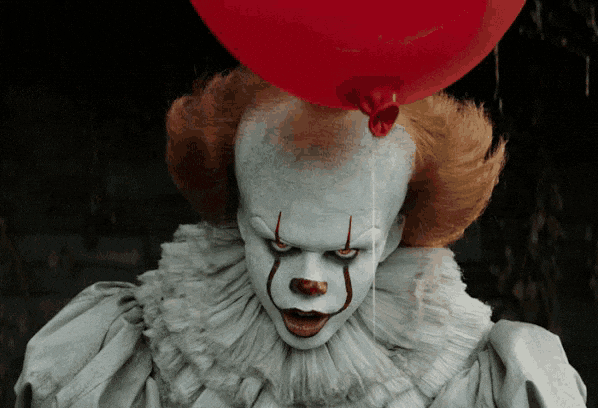 ---
Gerald's Game (2017)
If you're a fan of the genre, you have known about director Mike Flanagan for some time. He's been given the opportunity to really flex his muscle lately and he has not disappointed. Gerald's Game has been considered one of the most impossible King novels to adapt and even Flanagan had his doubts at first. But the finished product he submitted for Netflix's approval is one of the best King adaptations ever. Carla Gugino and Bruce Greenwood star in the haunting story of an ugly marriage and the aftermath of a sexcapade gone wrong.
---
Misery (1990)
From the man who brought you Stand by Me and The Princess Bride comes the most God awful ankle torture porn EVER. Starring Kathy Bates as the worst nurse ever, Annie Wilkes, and James Caan as beloved author Paul Sheldon, this film is a claustrophobic fever dream from start to finish. When Sheldon's car careens out of control in a snow storm, it's his number one fan who rescues him. Annie just so happens to be a nurse with a violently dark past. She's got some bones to pick (and break) with how Sheldon has treated her beloved character is his best-selling book series.
---
Carrie (1976)
Brian De Palma does what Brian De Palma does here, delivering a visually stunning and kaleidoscopic nightmare to the big screen with the story of a teenage girl who learns that she possesses telekinetic powers shortly after puberty sets in. A religiously aggressive mother, a high school of mocking tormentors and a bucket of pig blood go a long way to driving Carrie to literally reign Hell down on everyone.
---
1922 (2017)
One of my favorite short stories of King's that didn't make the list above, Zak Hilditch's Netflix original stars Thomas Jane as a farmer who decides killing his wife would be a lot easier than letting her leave the farm with their son after she inherits an enticing spread of land. Spoiler alert- it's a lot easier to just talk things out than try to live a life with a horrible secret. One of the most depressing films on the list thanks to the sprawling landscapes and a fantastic performance by Jane, this was one of my favorite films of 2017.
---
Christine (1983)
Arnie Cunningham is your typical high school nerd-type. Not overly popular with the girls, not liked by the jocks. But things change once he gets his hands on a 1958 Plymouth Fury that he affectionately names Christine. You see, the car is bitchin' and Arnie is suddenly the big man on the high school campus. Unfortunately, Christine is also haunted and quite possessive of Arnie. It's a love story forged in Hell. Directed by horror great John Carpenter, this song is classic Stephen King – ghosts, angst and rock 'n roll.
---
1408 (2007)
The only John Cusack/Samuel L. Jackson film based on a Stephen King novel you should see, 1408 brings us back to familiar King haunting grounds- an ominous hotel that just so happens to drive its guests mad. Mike Enslin (Cusack) is one of those authors who write about haunting landmarks and hotels across the country. He's a die hard skeptic. Gerald Olin (Jackson) is the hotel manager of The Dolphin in New York City. Enslin wants in to Room 1408. Olin desperately wants to change his mind. Haunted chills and thrills ensue.