There's nothing better than Halloween-themed television. It's a scientific fact.
Tons of holiday-themed specials have clogged the airways over the years, but there is a bunch of golden episodes from some of your favorite series to get you through this Halloween season. Here are a collection of some highlights from over the years.
---
The Honeymooners, "Halloween Party" (1953)
The Kramdens and Nortons are headed to Ralph's company Halloween party. Hilarity ensues when Ralph, who absolutely hates the tacky costume he's come up with, decides to go as an "elegant bum" instead. He destroys a tuxedo and thinks he's got it all figured out. When a co-worker arrives to pick up the couples for the party, Ralph is informed that it's not that kind of Halloween party- there will be no costumes. Ralph is not a happy camper but good ol' Ed Norton suggests they don't let their costumes go to waste and the couples head out for a night of trick 'r treating. This episode warms my heart like a cup of apple cider on a chilly October night. Back to much simpler times when adults wandering the streets for candy just added to the fun of the holiday.
---
The Addams Family, "Halloween with the Addams Family" (1964)
Nobody celebrates Halloween like the Addams Family. A pair of criminals seek a hiding spot at the Addams mansion while the cops are on their tails. The degenerates turn their attention to Gomez' small fortune but Thing has other plans. As if you needed any more reason to watch an episode from this deliciously macabre show, this one stars Don Rickles as one of the criminals!
---
The Muppet Show with Vincent Price (1976)
The Muppets meet legendary spook maestro Vincent Price. Need I say more?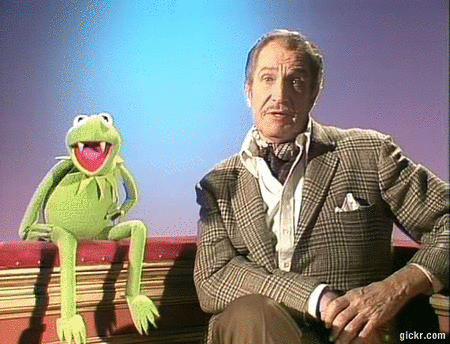 ---
Barney Miller, "Werewolf" (1976)
The freaks come out at night, indeed. However one fella is a little more peculiar than the rest. He informs Barney and the gang that he is a werewolf and asks to be locked up for the night. This is one of those "comfort series" for me, the kind of show you can just put on and enjoy a few laughs. I've always loved this episode and between the spooky story line and the classic one-liners, this one is a hit for any Halloween fan.
---
The Muppet Show with Alice Cooper (1978)
The Muppets meet legendary shock rocker Alice Cooper. Need I say more? Perhaps the best music videos ever were produced from this episode.
---
Bunnicula the Vampire Rabbit (1982)
This is one of my earliest memories of enjoying a holiday party in elementary school. It may have been kindergarten, more likely first grade, but the story of a newfound rabbit actually being a vampire that sucks the juice from all of the local vegetables holds a special place in my heart. Based on the hit children's book series, Bunnicula is one of those characters that immediately bring me back to the good ol' days of popcorn balls, juice boxes and plastic masks.
---
Garfield's Halloween Adventure (1985)
Everyone's favorite lasagna-chowing cat stars in his own Halloween special, waking up on Halloween morning with trick 'r treating on the brain. His regular shenanigans with Odie occur, including tricking the dog into giving him all of his candy but the spooky stuff starts after Garfield decides to hop on a row boat and head down a river to visit more houses for candy. The boat trip goes awry and the dog and cat end up at a haunted house where treasure awaits. Odie plays the hero in this episode and Garfield makes right by sharing their Halloween booty. Man, just thinking about this special has me wishing I had a glass bottle of root beer and a fresh pack of candy cigarettes.
---
Roseanne, "BOO!" (1989)
Arguably the most beloved Halloween-themed television episode of all time, the Connors hold a contest to see who can achieve the greatest scare. Their oldest daughter Becky is struggling to get into the holiday spirit even as the family turns their home into a haunted house for trick 'r treaters. The episode is packed with beloved scenes and costumes, as well as fantastic dialogue that makes this a must-see for any family-friendly spook fan.
---
Home Improvement, "The Haunting of Taylor House" (1992)
For my money, Home Improvement had some of the best Halloween episodes of any prime-time series. The first of these, 'The Haunting of Taylor House', is the best. Whether it's Tim implementing a new, more power-y way to carve a pumpkin or the Taylor Halloween party hijacked by teenage heartache, this episode has a little something for everyone. Plus, the weird kid Curtis arrives to the party and provides some of the best laughs in the episode.
---
The Simpsons, "Treehouse of Horror V" (1994)
Oh, my Lord. This might be my all-time favorite animated episode ever. Why, you ask? Let me count the ways. Not only does the episode include a delightfully wacky take on Stephen King's The Shining ("shh! You want to get sued?!"), it also includes a hilarious spin in the time travel genre. If that weren't enough, we also get a wonderfully macabre story about gruesome school lunches. The episode ends with the Simpsons performing a musical number after they are turned inside out by a ominous fog. Like all of the Treehouse of Horror episodes, this one is crammed with horror references but this particular episode really pulls out all the stops. A little bit of Stephen King, some The Outer Limits, a few dashes of Hollywood goodness and even a nod to the incredibly chilling radio show Lights Out. Plus, James Earl Jones!
---
Goosebumps, "The Haunted Mask, pt. 1 & 2" (1995)
I remember watching this episode during its premiere and it being one of the greatest viewing pleasures of my life. Neck deep in a Goosebumps fascination that still hasn't worn off some twenty-four years later, this is where it all began as far as the television series goes. The first of the two-part series was enjoyed by over 14 million viewers. Not only is the adaptation from the book perfect, but this is widely considered one of the scariest TV episodes ever. For good reason. Guys, do yourself a favor and grab a bowl of popcorn and watch this one. Now.
---
The Proud Family, "A Hero for Halloween" (2002)
It's Halloween night and the Proud family is ready for some hocus pocus. Except for Penny, the daughter. She's forced to hand out snacks to trick 'r treaters. Shortly thereafter, Penny obtains super powers after eating one of her father's Halloween snacks. Not only does Penny end up stopping some crime, she also manages to keep the ghosts at bay long enough for the Proud family to enjoy their holiday. Another classic from my teen years.
---
The Office, "Halloween" (2005) 
Michael Scott is forced to fire someone and after fretting about the decision all month long, he must break the news on Halloween. The office, of course, is in full Halloween regalia. While there are plenty of laughs in this episode (like just about every other episode of the show), there are heartfelt moments, too (like just about every other episode of the show). Michael giving out handfuls of candy to trick 'r treaters that night, after firing an employee, is one of the nicer moments of the episode. Said fired employee smashing a pumpkin over Michael's car is one of the funniest moments of the episode. You can never go wrong with the Dunder Mifflin crew.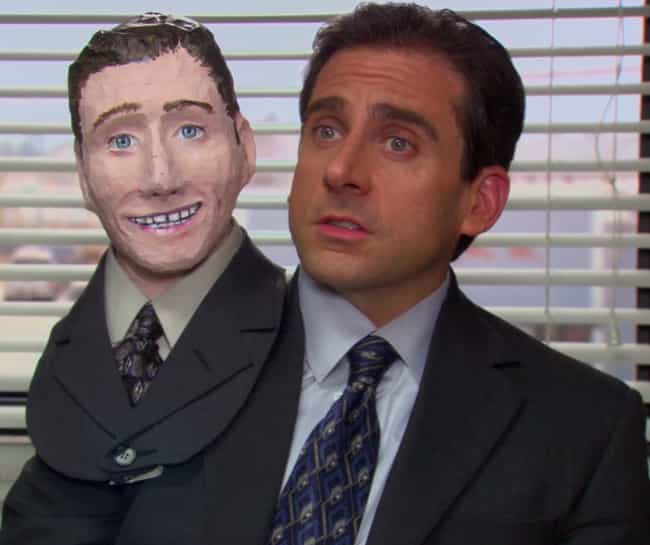 ---
The Big Bang Theory, "The Good Guy Fluctuation" (2011)
While there's also a more serious story line in this episode, the gold comes thanks to the attempted pranks by Sheldon on his buddies Howard, Leonard and Raj. The episode starts with Leonard getting scared witless while working in his office and concludes with him exacting hilarious revenge on Leonard. Definitely worth a watch, if for nothing more than all of the prank backfires that Sheldon endures during the run-time.
---
---
There you have it, folks. Did your favorite episode make the list? Let us know which ones we missed!