Ahhh, it's the most wonderful time of year. Halloween aisles are popping up in our favorite stores. TV channels are starting to promote their spooky marathons. Haunted houses are gearing up for opening night.
If you're any sort of Halloween fanatic, you are already a month or two into scheduling your month-long festivities. Perhaps this includes a party at your place? Maybe it just involves a ton of terrifying reading and horrifying movie watching. Whatever the case is, when making these plans (or engaging in these plans), some good music is a must.
Fortunately for you, I've whipped up a 25-track set list that leaves no genre ignored. You've probably heard of a lot of these songs, but there are some truly prime hidden gems on the list. Of course, I couldn't ignore the gold standards of Halloween tunes, either. There's a little bit of something for everyone here. So start the Halloween season off right and get down with your bad self!
---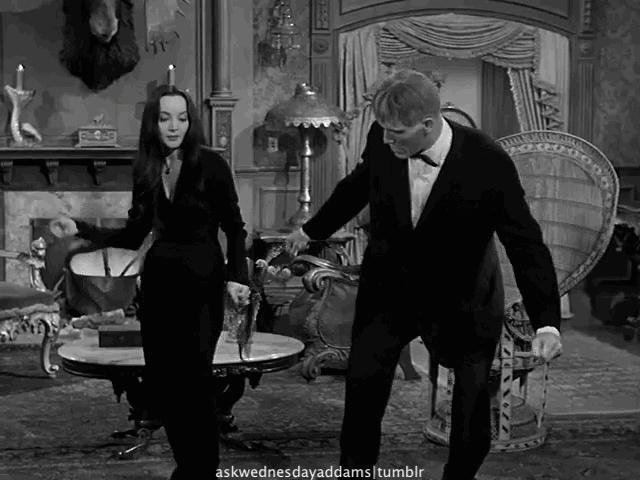 'Monster Mash', by Bobby Pickett 
You can never go wrong with one of the originals. Regardless of how hokey the song may be, it's a true Halloween classic and its inclusion in any set list for a costume party is a must.
'In The Room Where You Sleep', by Dead Man's Bones
Fronted by Hollywood hunk Ryan Gosling, this band is all about the macabre. This song just so happens to be their creepiest. Do yourself a favor and make sure you jam out to the version with the children's choir in the background.
'A Nightmare of My Street", by DJ Jazzy Jeff & Fresh Prince
This song is jam-packed with late-80's goodies, from the Fresh Prince of Bel-Air and his best pal DJ Jazzy Jeff to everyone's favorite nightmare ghoul, Mr. Krueger. The haunting music works perfectly with the Prince's (mostly) playful lyrics to create one heck of a creepy tune.
'Delia's Gone', by Johnny Cash
Chilling, haunting and gut-wrenching, this was a tough one to add to this list for me. It's added because it simply sounds like it was cranked out of a haunted phonograph. The story behind the lyrics is a sad history of a racial murder in 1900.
'The Breather', by Wolfmen of Mars
I listen to this song at least 200 times a year. This instrument-only jam always gets me in the haunted house mood. The Wolfmen of Mars live, eat, sleep and breathe the macabre madness that we all love. Grab a few of their albums as soon as possible- you won't be disappointed.
'I Put A Spell on You', by Screamin' Jay Hawkins
Another one of the all-time classics that I simply refuse to omit from a list like this. Hawkins was the man, as a singer and a showman, and you'll be hard-pressed to find a more recognizable song even all these years later. It's gotta be on your playlist in October.
'Psycho Killer', by The Talking Heads
Introduced to a whole new generation of folks thanks to the Netflix series Mindhunter, the title says it all. Complete with catchy jam-out and bridge lyrics in French, the band described the song as "Alice Cooper doing a Randy Newman-type ballad". Count me in!
'Feed My Frankenstein', by Alice Cooper
Considering there's about twenty Cooper tracks that could be on this list, I went with my personal favorite. It's loud, it's angry and it evokes the great Frankenstein monster. It don't get much more Halloween-y than that!
'Birds', by Death Grips
Not for a kid-friendly party. When I first heard this song, I closed my eyes and was transported to a grimy, angry city filled with the types of people you'd encounter during an apocalypse. Fun fact: actor Robert Pattinson played guitar on this track!
'Devil Woman', by Cliff Richard
Another classic makes the list. Richard's velvet-smooth voice paired with a thick drum beat and hypnotizing guitar licks, there's nothing this song does that isn't right. The story of a mesmerizing, albeit evil, woman is a shout out to all the witches out there.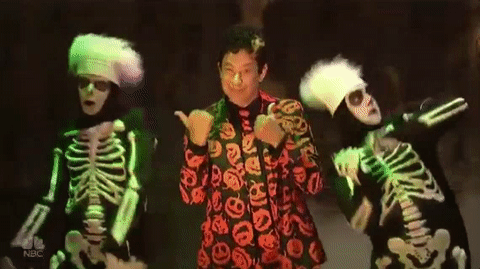 'Dead Man's Party', by Oingo Boingo
If Danny Elfman & Co. can't get you in the Halloween spirit, you might already be dead. If that's the case, leave your body and soul at the door and join the Dead Man's Party. Synthesizer goodness just dripping in hot caramel and candy corn bits.
'Goo Goo Muck', by Ronnie Cook & The Gay Lads
When the sun goes down and the moon comes up, it's all about the Goo Goo Muck! What the hell is Goo Goo Muck? Who cares- get your dancing shoes on and grab your favorite Bride of Frankenstein. This is probably one your grandparents rocked out to on All Hallow's Eve.
'Freaks Come Out at Night', by Whodini
Nostalgic enough to get all age ranges moving and spooky enough to kick off even the most hardcore monster bash, Whodini brings the goods on this one. Break out the cardboard box and bust a move!
'Scary Monsters (and Super Creeps)', by David Bowie
Another track filled with 80's goodness, this one tells the tale of a woman as she spirals into madness. A "claustrophobic romance", this one will be sure to keep your head boppin' as you bob for apples and sift through the mountains of candy for that elusive Reese's cup.
'The Devil Went Down to Georgia', by Primus
While not the most recognizable version of the song, Primus deserves a spot on this list and frankly, this is the better version to feature during a Halloween party. Plus, you'll find the other guys a little later in this set list. The story of a young boy named Johnny beating the Devil in a fiddle-off is one of the best dark rock tunes ever.
'Bury A Friend', by Billie Eilish
The newest voice on the scene in this list, Billie always brings the gory goods. Most of the story is told through the eyes of a monster under your bed. Not only is this song unnerving with the edited voice layers, but the stripped down instrumental arrangement is downright chilling.
'Rockin' in the Graveyard', by Jackie Morningstar
Another of the classic tracks you simply can't ignore on a party soundtrack. The title alone is a dead giveaway that this tune is ripe for the pumpkin pickin', but the song earns its keep all by itself.
'The Legend of Wooley Swamp', by the Charlie Daniels Band
Fittingly off the album 'Full Moon', the Charlie Daniels Band has a claim to the tune about a fiddle-playing Devil up above but this is the one that gets them on this list. The story of a man who goes from skeptic to believer when he travels into the woods one night is quite deserving of a play.
'No Quarter', by Led Zeppelin
John Paul Jones' classic spotlight song is the best Zeppelin has to offer as far as Halloween-themed work. Created in a reportedly haunted English mansion, the pitch changes and ominous mood of the song is perfect for a late night stroll through a cemetery.
'Bark at the Moon', by Ozzy Osbourne
Bang your head, people! Time for another round of spiked punch as Ozzy blasts through the speakers. The ultimate homage to lycanthropy, this one is fast and ferocious- just like our favorite werewolves.
'Maniac', by Kid Cudi
Ominous and much more brooding than most on this list, references to the ghoul with the cape and his tomb makes this addition to the list a no-brainer.
'Graveyard Rock', by Tarantula Ghoul and Her Gravediggers
Tarantula Ghoul is every bit the awesome Woman in Horror that the likes of Vampira and Elvira are. If you don't know her, cozy on up to her during this romp through the headstones.
'Thriller', by Michael Jackson
As if this one needs any introduction. Based solely on holiday merit, this is the ultimate Halloween song. It's damn near perfect and if it's not played at least twice at your costume party, you are gonna have to turn in your Spook Card.
'Marie Laveau', by Bobby Bare
An oral history of one of the most vile people in history, Bobby Bare weaves the tale of the dark voodoo mistress herself. This is one of those songs that is perfect for winding down a holiday party, as the beers are passed out to the grown-ups and the full moon rises.