Welp, I've tried to string this along for as long as possible. Sadly, all good things come to an end.
Today, my 2018 Halloween coverage winds down with the third and final installment of the round table discussion I was lucky enough to host with ten fantastic Halloween loving pals.
For this final nod to the greatest holiday on the calendar, we discuss childhood Halloween memories, what these awesome people are currently working on and be sure to check out the bottom of the piece as I will provide links to all of these ladies and gentlemen and where you can follow them!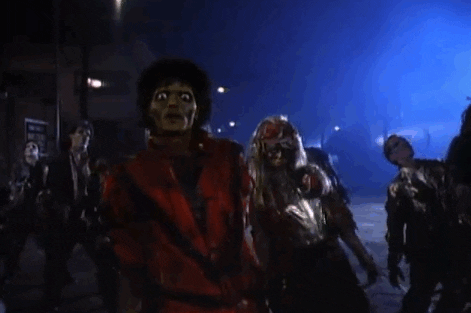 ---
WHAT ARE SOME OF YOUR MOST FOND MEMORIES OF HALLOWEEN AS A KID?
Kevin Spencer, artist: Halloween Parties. I wasn't allowed to go to many parties as a kid but Halloween was always an exception so it was a lot of fun having a little more freedom. I remember roaming the neighborhoods with my friends and trick or treating and just hanging out having a good time.
Jason Thorson, Editor-in-Chief (Ravenous Monster): I loved our annual grade school Halloween party and parade.  We'd wear our costumes to school, have a contest and do a bunch of fun activities, then we'd walk the neighborhood in a huge single-file line, all grades with our teachers, and parade around in our costumes.  It was a BLAST.  My hometown was a little rough around the edges, but it has always represented itself well around Halloween.  Tons of people decorate.  We used to have an infamous haunted attraction called The Scream that was the source of many a sordid tale.  And there were lots of home-haunt/elaborate trick-or-treat set-ups that made trick-or-treating super fun.
Steve Mezo, owner (Tattooed Steve's Storage Unit of Terror) and monster kid: Trips to The Filkin's Halloween Castle, The Old Wagon Wheel Farm, listening to Mr. George playing the piano and talking to The Talking Pumpkin Family and getting to pick out my costume from J.J. Newberry's in Keyport, New Jersey. And, of course, the TV Halloween Specials.
Karen Lam, filmmaker: Sorting through my Halloween candy haul in the evening and in the next week:  I always needed to prioritize the various candies and dispose of the crappy ones.  I'm not sure if they're available in America, but in Canada there's these horrible molasses candies in this cheery orange wrapper.  They were too sweet and bitter, like a caramel gone seriously wrong.  I hated those.  And the licorice All-Sorts.  And the dentists who thought they were clever by giving us cheap toothbrushes….sorry, this turned into a rant.
Chris Kosarich, author: I really miss those cheesy haunted houses put on by groups like the Kiwanis or another similar organization. Usually for a buck or two, and the props were cheap but still…you'd be standing outside in line, hearing the creepy sound effects and screams coming from inside, and that knot of tension would build in your gut…yeah, I miss those days a lot!
Michelle Garza/ Melissa Lason, artists/authors/The Sisters of Slaughter: Our fondest Halloween memories are our mom's homemade costumes, our dad's ghost stories, Halloween parties at our cousin's house and feeling brave for trick or treating on streets with hardly any street lights.
Maude Michaud, filmmaker: My fondest memories have always been related to preparing for Halloween. From picking out decorations with my parents and helping install them, to choosing my costume (which was always a very long process: I'd pick my costume in July, then go fabric shopping with my grandma, have her sew it, and so on), prepping candy bags, organizing a party with my friends, all that fun stuff. As a kid, I always treated it as a month-long celebration that I carefully prepped to make it perfect and I was lucky to have wonderful parents who encouraged me by participating in all my crazy plans.
Gwendolyn Kiste, author: Although it's hard to choose, my favorite memories of growing up were probably my Halloween parties. It was always so fun to invite everyone over to my house when I was in grade school and middle school. Those were such sweet, carefree times, and really, there's nothing like getting dressed up and playing silly festive games with friends!
Julie Anne Philputt, actress: Trying to organize slumber parties in the graveyard by my house, dressing up as the crypt keeper and other costumes the other kids didn't understand, and circling Halloween programs in the TV guide.
Chris Larsen, author: When I was about eight or nine-years-old, my brother and his best friend decided to make a haunted house in his friend's basement, and I helped. I don't remember finishing it–we probably didn't. I mean, we had all these plans to have a huge line of people walk through the place, but we never finished it. We never even finished part of it. All I can remember clearly is filling a rubber glove up with water (maybe) to use it like it was a severed hand. But I know we had a hell of a time. Then there was the time just my brother and I turned his bedroom into a haunted "room". We got a little further with that one, but we still didn't have any customers. We laid pillows in his bed for a body, used shoes for feet and a batting helmet for a skull, laid a blanket over the whole thing, and balanced a picture frame on the head like it got brained by the corner. He also dressed his chair up in a shirt and suit coat. He even recorded the deep slow parts of "Grim Grinning Ghosts" from Disney's The Haunted Mansion on a cassette recorder and played it while we surveyed the creation. It was pretty cool. I also remember drawing these haunted house cross sections with my brother using glow in the dark crayons. The whole thing wasn't glow in the dark, just some highlights–like lightning, I remember the lightning in particular. I guess the best part of Halloween for me was the creative part. The open invitation to make something new (or at least mimic something cool).
---
WHAT ARE YOU CURRENTLY WORKING ON?
Kevin Spencer: I am currently working on a few freelance projects after a decently long absence from art. I also have a few ideas and collaborations in the works for 2019 so stay tuned.
Jason Thorson: I'm the editor-in-chief at RavenousMonster.com which is something I'm always working on, and I'm gearing up to start pre-production on another short film so keep your eyes out for info on that.
Steve Mezo: Lots of Monster Model builds lately.
Karen Lam: I'm in post-production on my third feature film The Curse of Willow Song and we're just waiting for the visual fx to get finished on my monster.  I'm currently trying to get a music video funded (for a new metal band called Ophelia Falling, and the concept is based on The Cabinet of Dr. Caligari), a new true crime series, and a top secret short film (which isn't genre-related.)
Chris Kosarich: Well, I finished the first round of revisions on my sci-fi horror novel, THE RAVENING, and will be working with my editor on getting that ready over the next few months or so. More recently and coincidentally, I just self-published my third e-book short (although this one clocks in at just over 17k words, so it's easily the longest of my e-book shorts), MISTER JACK, a Halloween horror story. Available for Nook and Kindle as we speak!
Michelle Garza/ Melissa Lason: We finished Silverwood The Door with Brian Keene, Richard Chizmar and Stephen Kozeniewski and also launched our latest novel, Twin Lakes: Autumn Fires just last week so now we're jumping into a novel and a short story collection.
Maude Michaud: I've spent the past two years working on and pitching a new feature script and a TV series project. It's been very time-consuming, so I haven't had much time to create anything else (aside from contributions to two anthology projects and to the Soska Sisters PSA), but I'm really itching to direct something new. So, in addition to continuing to shop around these projects, I'm planning to shoot a new short film over the next few months for the 2019 festival circuit. And, in the meantime, hopefully one of my other projects will get a bit of traction!
Gwendolyn Kiste: The biggest project for me this year is promoting my debut novel, The Rust Maidens, which is due out November 16th from Trepidatio. It's all about body horror, coming of age, and my Rust Belt home state of Ohio. Definitely a project that's close to my heart. Otherwise, I'm working on finishing up a few short stories, and in the very early planning stages of the next novel. Plenty of projects up in the air right now, so it's always interesting to see how they will end up!
Julie Anne Philputt: I just finished working on Witch House, which is an adaptation of the H.P. Lovecraft story. It's going to be incredibly disturbing and beautiful! I'm very proud!
Chris Larsen: I'm working on a novel called Lupercus about Earth colonists who take a generation ship to a shepherd planet in our solar system about 200 times further from the sun than we are. They are the first ship that launches and the planet is humanity's last chance at survival, but when they get there, it's already inhabited by Earthlings who don't want them to land. How did they get there? Why don't they want them to land? Once those mysteries are solved, the real conflict begins.
---
Keep up on everything these fantastic folks are working on below!